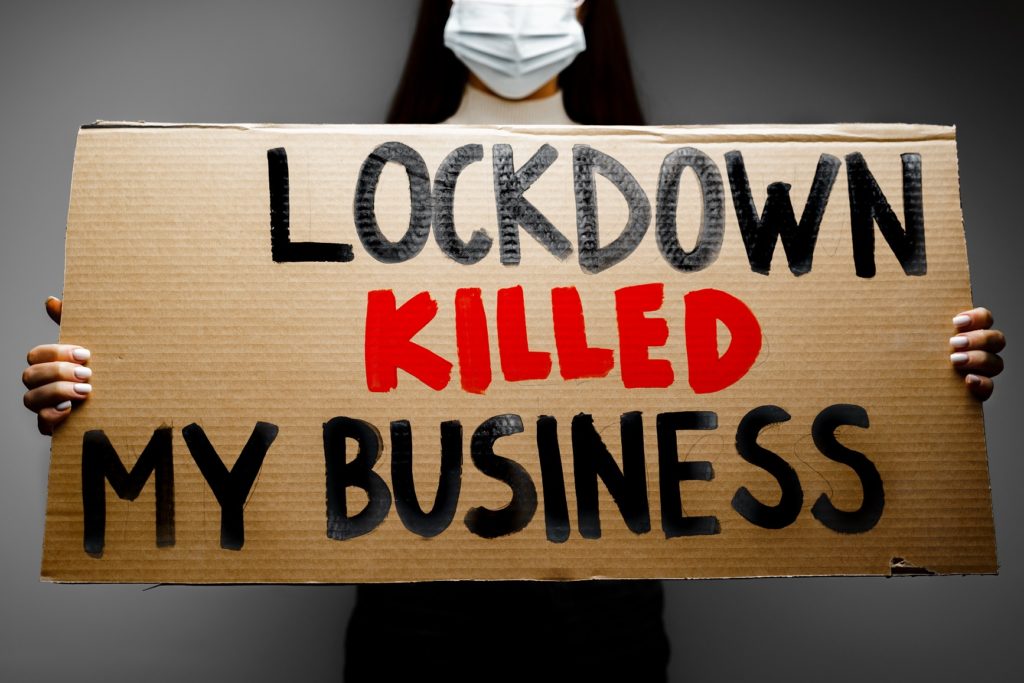 The bad news caused by the government imposed shut down of the economy keeps rolling in.
Merely a few recent articles:
The "laptop class" did well, while the working class was delivering their stuff, taking on the risks of infection.
Rents in New York City are in freefall.
Record levels in discount off the posted tuition rate for private colleges, which is an indicator of collapsing demand and indicator of future financial distress.
Millions are unemployed while companies can't find enough workers.
5/20/21 – Glenn Reynolds at New York Post – The rich and powerful thrived as the rest of us suffered in the year of lockdowns – Fourteen months of the "two weeks to slow the spread" has shown that the rich and powerful did quite well while working class and poor folk suffered.
The laptop class was able to stay at home, fully employed with no loss of income. In fact, with no commuting costs and not eating out for lunch many in the laptop class were left better off.
They stayed home and the working class delivered their stuff.
Of course, stats are now emerging that states with the hard lockdowns saw minimal difference in covid infections, illnesses, and deaths when compared to states with little or no lockdown and earlier easing of restrictions.
Small businesses across the country shut down while big company picked up all their sales.
Article reminds us not one politician lost one penny of pay.
We have all noticed the leaders of the public health sector have beclowned themselves routinely.
Article points out plenty of other issues that have become visible during the pandemic. Check it out.
4/23/21 – New York Post – NYC rents are in freefall, now reaching record lows – Rental prices in New York City are collapsing. So many people are leaving the city that rents are in freefall.
Survey by a company who tracks rentals found in the first quarter of 2021 that median rental prices are down about 21% in Manhattan, 10% in Brooklyn, 14.8% in Midtown, 13.9% in Upper East Side, and 10.5% in Queens.
Rentals are at the lowest since this particular source began tracking prices in 2010.
On top of the collapse of the listed price, article says lots of landlords are offering concessions of one month free rent on a 12 month lease. That's another 8% drop in price on top of the previously mentioned collapse.
5/21/21 – TaxProf Blog – Private College Tuition Discount Rate Hits All-Time High of 53.9% – NACUBO reports a survey of 361 private colleges and universities finds the average discount off the posted tuition rates for first-time undergrads rose from a previous record high of 51.2% if the 2020 academic year to 53.9% in AY 21.
The accelerating discount rates, combined with the huge loss of foreign students who usually pay posted rates, is major warning sign for higher ed.
Also, any American who pays full freight is getting taken.
5/6/21 – Wall Street Journal – Millions Are Unemployed. Why Can't Companies Find Workers? – Lots of articles recently have pointed out the dichotomy of companies not able to find enough staff compared to unemployment numbers which would be record-setting apart from every previous month of the pandemic. This article is a good representation of recent coverage.
Consumer spending is soaring between tidal waves of stimulus money created by the Federal Reserve, lockdowns being relaxed even in states like California and New York, and accelerating vaccination coverage.
At the same time lots of people are staying home, either because they are still scared of getting sick or their children are still not in school.
The new variable is with the large federal ad-on to unemployment insurance, many people can make more money staying at home drawing an unemployment check than going to work.
Article points out that posted job openings in April 2021 compared to February 2020 (before the pandemic) are up about 25% in retail. In both the manufacturing and construction sectors, job openings are up somewhere around 60% from before the pandemic began.
There are tons of job openings and massive unemployment.
Hmmm. Ponder how that could be.