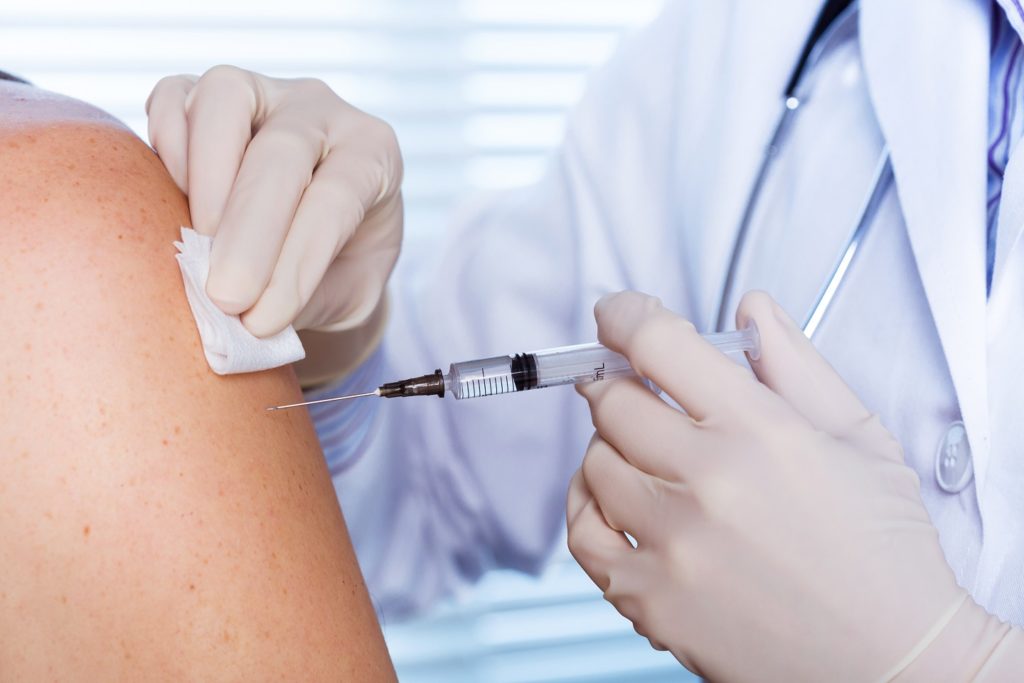 The promised vaccine mandate for private companies with 100 or more employees were published on 11/4/21.
The federal diktat applies to private-sector employers with 100 or more employees. Companies have to verify employees have been fully vaccinated or require a weekly negative test. In addition anyone not vaccinated will have to wear a mask at work.
The vaccinate-or-test requirement goes into effect 1/4/22, two months from now.
Oh yeah, that mask requirement for the unvaccinated goes into effect 12/5/21, a month from now.
Separate federal diktats applied to federal employees, any company with a federal contract (think airlines, trucking companies, defense contractors), and any health facility with billings to either Medicare or Medicaid program.
Newest rules catch another 84 million people the mandatory vaccinate-or-else requirement.
News flash: The Fifth Circuit Court of Appeals issued a temporary injunction against the rules on 11/6/21.This circuit covers Texas, Louisiana, Mississippi, South Carolina, and Utah. The ruling cited "grave statutory and constitutional issues." Brief coverage from Investing on 11/6/21: U.S. federal appeals court freezes Biden's vaccine rule for companies.
Background on the rules and then the beginning points of issues with the requirements.
Wall Street Journal – 11/5/21 – OSHA Covid-19 Vaccine Mandate: What to Know –
Enforcement for the program will rely on complaints from employees. OSHA will start inquiries based on complaints and escalate to on-site inspections as needed.
Penalties start at $13,653 for the first violation. Willful violations can incur a $136,532 penalty.
Multiple penalties are available if there are multiple violations.
A major issue that I will come back to later is pondering what economic system this constitutes.
Employers are required to give employees time off to get vaccinated. There is also a requirement to give time to deal with any side effects from the vaccine.
Employers don't have to pay for weekly testing. This means employees will be picking up the tab for the weekly test.
The diktat does not acknowledge the possibility of immunity from having been previously infected. There is no exception from the vaccinate-or-test-weekly requirement for anyone who has already suffered through an infection.
The WSJ article mentioned above indicates the 490 page of rules do not specify what employer should do if someone does not comply. The diktat does not require employers to fire noncompliant staff. It also doesn't prevent them from doing so. The rules take the copout option and say that employers ought to "consult applicable law" before making personal decisions.
Obviously the main choices will be to suspend someone, lay them off, or directly fire them. I suppose leave without pay extending indefinitely until an individual employee knuckles under may be a popular option.
What this does is create an implied enforcement requirement for employers to get rid of employees who do not comply. Whether it is permanent lay off or direct termination or banning from the workplace with reduced pay and responsibilities is up to the employer.
The point is the federal government has transferred to private employers the requirement to discipline staff. One way or another the inevitable result is going to be a person loses their pay, if not directly terminated.
There is a word for this economic system. We will come back to in a later post.
Wall Street Journal – 11/4/21 – OSHA's Vaccine Mandate Overkill – Subheading of the editorial reads "The 490-page Biden rule is unnecessary and needlessly divisive." Yeah, that's a good summary.
Unnecessary.
Divisive.
Needlessly so.
An unknown percentage of employees will quit rather than get vaccinated. Article quotes a survey by Kaiser Family Foundation which indicated 37% of unvaccinated employees would quit if they were required to get a vaccination or be tested weekly.
Article also says that one fourth of all adults personally know somebody who has quit a job over a vaccine mandate. The article does not state whether that data is from the survey just mentioned or another source.
The regs acknowledge there might be an increase in turnover. (Brilliant deduction!) No big deal to the feds – they won't suffer because of it. Editorial points out that even losing 1% or 3% of employees would cause most companies serious problems in an already tight labor market.
Editorial points out, absolutely correctly, that the rapidly increasing number of breakthrough infections seriously undermines the value of a vaccination mandate. A rising percentage of cases are in people who have already been vaccinated.
The growing number of breakthrough cases seriously undercuts the rationale for a vaccination mandate. I will discuss that more in an upcoming post.
Editorial closes with a warning:
"… The administration's unnecessary mandate is trampling state police powers, imposing new burdens on employers when they can least afford it, and making life harder for the unvaccinated who want to work in an economy with too few workers. He's also courting a political counter-reaction…"
Likely consequences
I predict a number of unintended consequences which are completely foreseeable and predictable:
Increased cost to run a business because of the time and effort to administer the requirements and mandatory time off to any staff who wish to get a vaccination and recover from side effects.
Massive legal costs economy wide as many states and a large number of private organizations have already filed suit or promise they will in an effort to overturn the rules.
Increased turnover as some percentage of people will quit instead of getting vaccinated.
Increased staffing pressure as companies have to replace those staff who quit.
Increasing tension in the workplace between those are vaccinated and those who are required to wear a blue marker to announce to the world they are unvaccinated. "Othering" of one's co-workers does not make for a more productive workplace. The analogy to an unpleasant time in Europe's past will be discussed in a future post.
Continued general erosion of political and economic freedom. More on that later.
Increased polarization in our society. Related to that is a significant risk of pushback, or a "political counter-reaction" as the WSJ put it.
A significant risk the entire effort will not do any good because of growing number of breakthrough infections. More on that in a followup post.